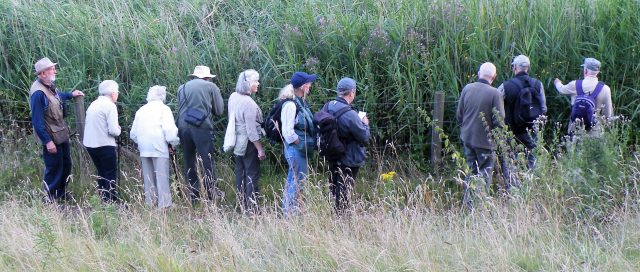 Our next Wednesday evening field visit (21 June) is a welcome return to Boylin's, the area near Strafford industrial park. It's off the road (Gilroyd Lane) between Gilroyd and Stainborough.
It's a general nature walk in an area with a stream (Stainborough Dike), reedbeds ( Strafford Mine Water Treatment Plant), grassland and woodland. So looking for plants, birds, butterflies and other invertebrates. It's part of the Falthwaite and Lowe Wood local wildlife site. The Dove Valley Trail (TPT) skirts the site.
Meeting: We are meeting for 7pm at the Strafford industrial estate car park: SE324041. The selected 'what three words' location is ///launch.water.beast !
We have a species count of 103, many of which we see regularly. There will be more to add to the list when we get the insects species from one of our members. Birds that we saw ot heard include wren, reed warbler anf young bluetits. Insects were a snout-nosed moth, clearwing (possibably lunar hornet moth) nurseyweb spider and bishop's mitre shieldbug. Plants included enchanters nightshde, crosswort, goats rue, everlasting pea and yarrow (flowers are just opening). Galls midge, Dasineura acrophilia, gall on ash; two mite galls, Eriophyes inangulis and E. laevis on alder; wasp gall, Andricus curvatur, on oak sessile