Barnsley Nats has a programme of meetings and field visits throughout the year.
We now have monthly indoor meetings from October to March on Wednesday evenings at Worsbrough Common Community Centre.
We have field visits on the second Saturday morning of each month throughout the year and, replacing the indoor meetings from April to August each month. There are extra field visits sometimes too.
Here is the programme from October 2023 to March 2024; indoor meetings are at Worsbrough Common Community Centre, Warren Quarry Lane, S70 4ND.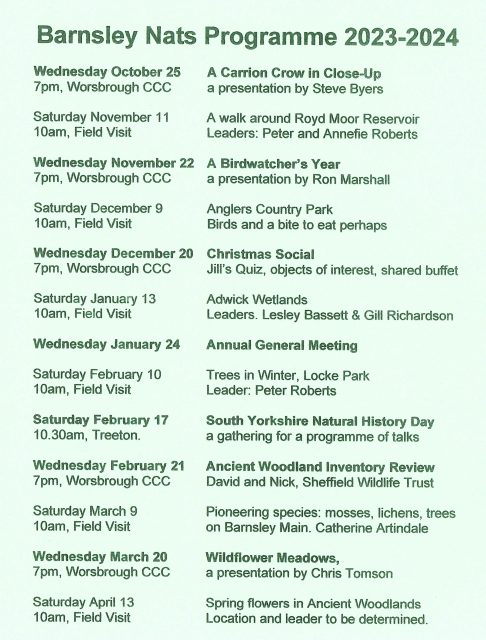 There a some changes for our programme this Autumn and Winter with a new venue for our indoor meetings …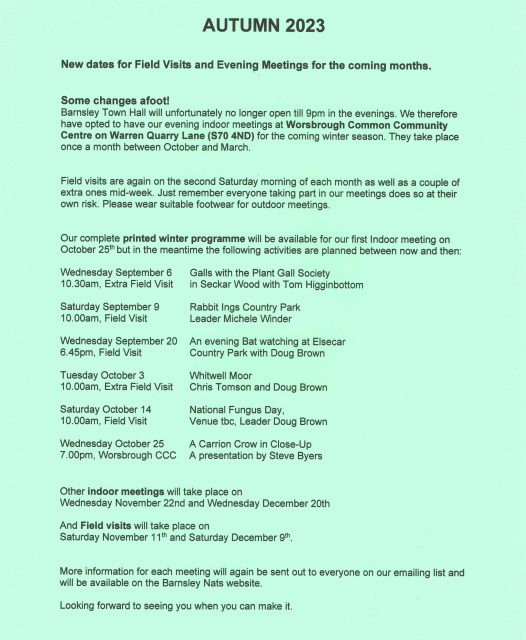 Here is the programme from March to September 2023
Please note there's a change in the programme on Wednesday 24 May, when now we will be visiting Netherwood Country Park and Nature Reserve.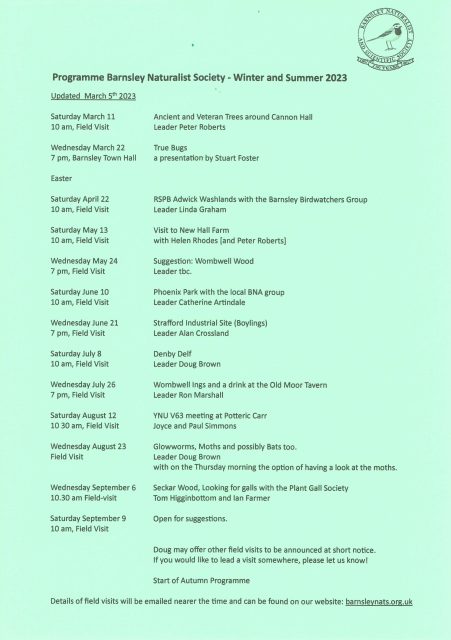 Here is the programme from September 2022 to March 2023
Further information will be published via our mailing list, on social media and on our website home page.
Saturday September 10, 10.30am, field visit. Looking for Plant Galls, Worsbrough Country Park, with Tom Higginbottom, Plant Gall Society
Wednesday September 21: A Scottish Tour, an illustrated presentation on wildlife in Scotland by Ron Marshall, 7pm, Barnsley Town Hall
Saturday October 8: Field Visit, 10am: Fungi on Dodworth Stack, Leader Doug Brown
Wednesday October 19: Moors for the Future, a presentation on the work of this organisation, 7pm, Barnsley Town Hall
Saturday November 12: Field Visit, 10am. Wildlife of Angler's Country Park. Leader Annefie Roberts
Wednesday November 23: Wildlife on the Yorkshire Coast, a presentation by Geoff Carr, 7pm, Barnsley Town Hall
Saturday December 10, Field Visit, 10am. Elsecar Country Park: Walk and pub lunch.
Wednesday December 14: A short trip down the microscope with Howard, Jill's Christmas Quiz, Treasures of the Dearne, and Cake! 7pm, Barnsley Town Hall
Saturday January 14, Field Visit, 10am. A change in the programme: a look at the winter wildlife of Worsbrough Country Park, meeting in the car park at 10am. Leader Doug Brown
Wednesday January 25: Biodiversity in Barnsley, a presentation by Peter Roberts; and Annual General Meeting. 7pm, Barnsley Town Hall
Saturday February 11, Field Visit, 10am. Winter birds; Carlton Marsh
Leaders Doug Brown and Cliff Gorman
Saturday February 18 10.30am: South Yorkshire Natural History Day. Naturalists from the region coming together for a programme of talks
Wednesday February 22: Rewilding, a presentation by Chris Tomson. 7pm, Barnsley Town Hall.
Saturday March 11, Field Visit, 10am. Ancient and Veteran trees around Cannon Hall. Leader Peter Roberts.
Wednesday March 22. True Bugs, a presentation by Stuart Foster
7pm, Barnsley Town Hall
From April, a summer programme of field visits will start again.
Previous meetings in 2022:
Saturday March 12th, 10 am: walk around Carlton Marsh nature reserve
–looking for signs of Spring, leaders Peter and Annefie Roberts
Saturday April 9th, 10 am: Visit to Nabbs Wood, near Silkstone Common. [Changed from Bagger wood]. Leader Doug Brown
Saturday May 7th, 10.30 am: A field visit organised by the Botany group of the YNU to explore the magnesium limestone springs and fens near Barnburgh.
Wednesday May 18th, 7pm: an evening to Gunthwaite with Ron Marshall to look for birds and bats
Saturday June 11th, 10 am: a walk around Gosling Moor, a historic wood pasture, near Wortley, for flowers, trees and insects, leader Catherine Artindale
Wednesday June 22nd, 7pm: Another visit to Banks Renewables, a heather moor above Carlecotes, organised by Trevor Mayne.
Saturday July 9th, 10 am: a general survey of the area around Barnsley Main Colliery site. Andy Young is one of the volunteers there and will welcome us.
Wednesday July 13th (plus Thursday 14th): Counting the glow worms on the TPT and trapping moths. Doug will lead this field visit with Jill; members are invited to come the following morning to see what moths have been collected.
Saturday July 23rd, 10.30 am: A YNU field visit to Brockadale, a nature reserve east of the A1, organised by Joyce and Paul Simmons.
Saturday August 13th, 10 am: following a route from Royd Moor viewpoint that Alwyn Timms took us on to count Wall Browns butterflies. Leader Peter Roberts
Wednesday August 24th, 7pm: A walk to detect bats around the Dearne Valley Country Park.
Saturday 12 February
Adwick washlands

Saturday 8 January
Elsecar Reservoir Nature Reserve

Saturday 11 December
Broomhill Flash and Wombwell Ings

Saturday 13 November
Dodworth pitstack -grassland and woodland fungi

Saturday 2 October
Wortley Hall parkland and walled garden – fungi and veteran trees

Saturday 28 August
Banks Renewables heathland site

Wednesday 21 July
Gypsy Marsh Local Wildlife Site – flowering plants

Saturday 3 July
YNU VC63 excursion – River Dearne down stream from Monk Bretton Priory

Wednesday 21 June
Worsbrough Country Park and Local Wildlife Site – meadow and reservoir
Our previous programmes back to 2017, our 150th anniversary year, can be found on another page. www.barnsleynats.org.uk/programme/older-programmes/