I've got a cricket and a ladybird to share with you. I was washing the car one morning and noticed this insect just sitting there on the alloy wheel!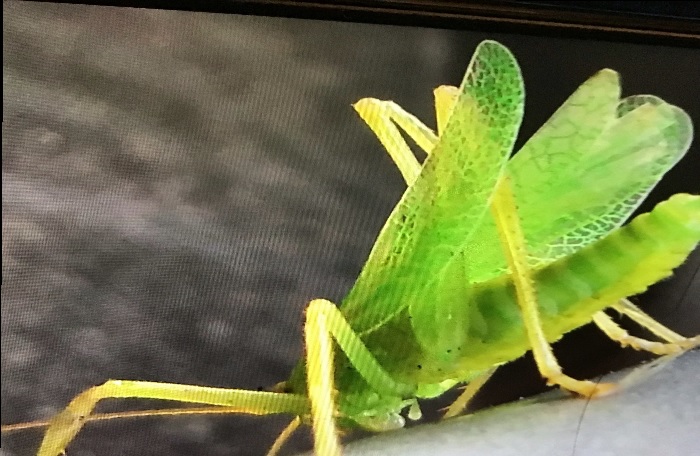 I think it's a male Oak Bush Cricket- Meconema thalassinum. Males have two short rounded claspers as in the picture, whereas females have a long ovipositor at the end of their body. More
I think it's there because I have about a dozen oak trees in my garden that might have attracted it, albeit they are miniatures. It looked as if it was still forming as it was so fresh and green. Such a beautiful creature!

I thought crickets sang (stridulate) with rubbing their legs together, this is not the case. It's grasshoppers that do this. Apparently both the male and female cricket have a ridged vein at the base of their forewings that acts as a scraper. To sing they pull this ridge vein against the upper surface of the opposite wing, causing a vibration amplified by the thin membrane of the wing. More

We have all tried at times to locate crickets when we could hear them chirping in the grass. But their hearing is so acute that they can sense the vibrations of your feet so stop singing. A great defence from predators with their hearing.
And then, whilst cutting some shrubs back in my garden, I acquired this ladybird on my blue fleece. It hitched a ride into the house, where I supposed it was trying to get somewhere warm for winter.

I think it is a Two-spot Adalia bipunctata f. quadrimaculata red-on-black four spotted form. The black versions are more common in the north as this "melanism" helps them to absorb heat from the sun. These are much smaller than the harlequin, at about 5mm, and as you can see the underside is black and has black legs. Harlequins have reddish-brown legs, and orange abdomen.
Cheers Andy, keep safe and well. ? ?