From Stuart. Lynn and I have continued with our daily walks this past week and on some days even needed an umbrella! But, of course we did need the rain.

Well we have had another unusual mayfly event or perhaps it is these unusual times that is making us take more notice of what could be very common events – I will let you decide. So to continue….

Our smallest UK mayfly is Caenis rivulorum, with a fore wing of around 3mm in length. As larvae they live in the silty areas of rivers and when they emerge to the adult stage it is often in huge numbers and at this time of year. This generally takes place around an hour into darkness which means it is often missed by most people.

Like many mayflies they are not strong fliers so it was quite a surprise to find hundreds had tried to egg-lay on my van roof one night last week (we are good ½ mile away from the River Don at its nearest point and not in line of sight).

Having noticed this I then checked other cars (and vans) as we set off on our morning walk, almost all had egg bound females stuck on them, again in the hundreds.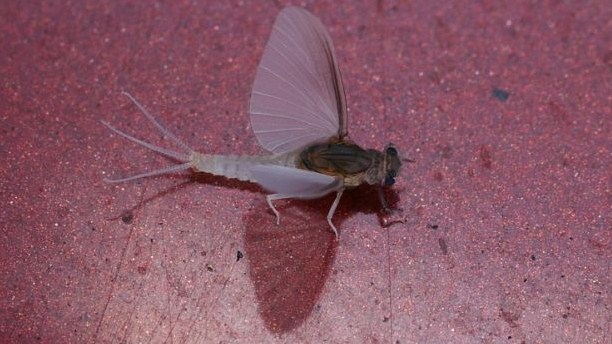 This is a modern phenomenon with mayflies because bright shiny car roofs are very new to an insect that has been around for 300 million years.

And, of course it is a problem because every one of those egg-laying females has in effect failed to complete its life cycle at this very last point – all that effort wasted.

The reason they get it so very wrong is that they use horizontally polarised light to "detect" the surface of the river and by pure coincidence shiny dark flat surfaces, as seen on a car roof, reflect light in the same way. Sometimes nature just cannot win!
Stuart & Lynn.