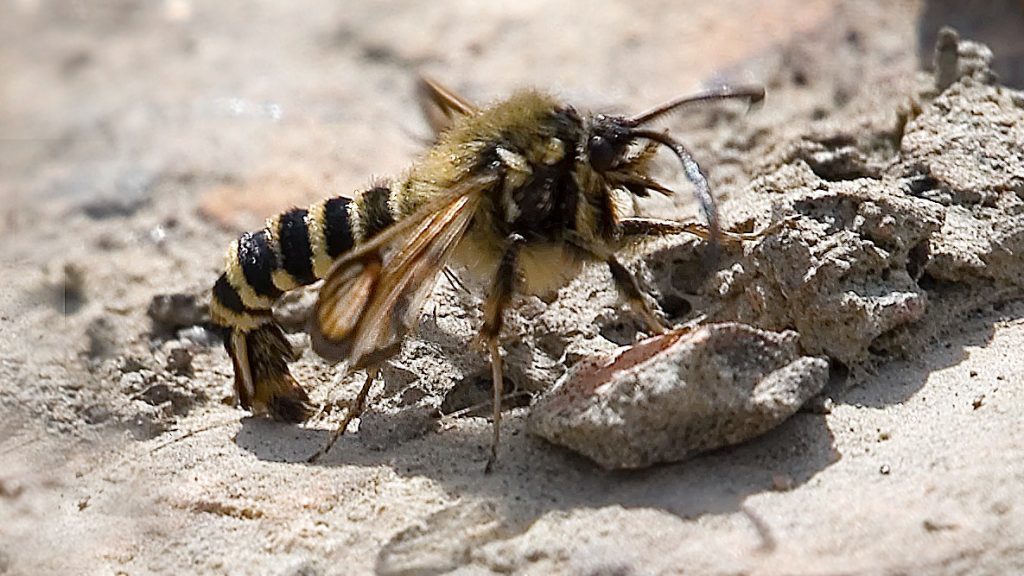 I have never seen a Six-belted Clearwing, Bembecia ichneumoniformis, before, let alone in the Barnsley area. Apparently they are considered nationally scarce and usually found in Southern England on chalk hills and downs, at the occasional quarries and southern rough grassland/ground. Very rarely seen, they are under-recorded generally. They inhabit similar locations to Common Blues, Small Blues and Dingy Skippers.

Their larvae are 'miners' and burrow into and eat the roots of Bird's Foot Trefoil, Kidney Vetch and sometimes Horseshoe Vetch.

This one came out into the open, and kept flying fast and low but briefly settled for just a second or two.Fortunately, I managed to capture this record shot before it flew out of sight.

I had gone to check for a second brood of Small Blues in the Darton – Woolley area and found only three on this site and sadly, none on other sites. Even so, this is evidence of a partial second brood.

I also recorded 18 Small Skippers and 3 Essex Skippers, along with 7 Marbled Whites, several Large, Small and Green-veined Whites, Meadow Browns, Gatekeepers and Ringlets, a Small Tortoiseshell, an old Common Blue and a Shaded Broad Bar moth, Scotopteryx chenopodiata. The weather was warmish, dry, with gathering clouds and sunny intervals, no wind. Alwyn.